Find Answers Below!



Our Cars

Cars are our training equipment, and the equipment we choose reflects our high standards. We have proudly chosen identically-equipped Nissan Versa SL models, purchased new for West Point.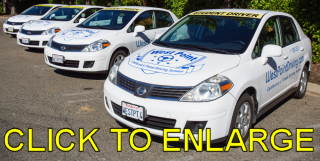 Comfortable and Easy to Drive
The Versa SL offers an excellent view of the road and a comfortable driving position for most any size driver. Students from 4'6" to 6'10" say our cars are very comfortable, thanks to driver seats that move up and down and an adjustable steering wheel. We keep our cars very clean, and if the air conditioning isn't cold, we take a car out of service.

Safety
Every car gets a full safety inspection every year, in addition to daily "walk around" safety checks. Tires and brakes are always in great condition, and of course we keep a regular schedule of maintenance.

Our cars are equipped with stability and traction control, ABS, electronic brake force distribution, brake assist and brake override technology. In particular, because our cars are driven by inexperienced drivers, we feel that the antilock braking system (ABS) is absolutely essential, to avoid skids and maintain steering control even when the student steps too hard on the brake. We will never train with cars that don't have these technological advances!

Going beyond DMV requirements and surpassing the standards of nearly every other driving school, the instructor's side of every car is equipped with a brake and a gas pedal. The instructor's gas pedal ensures greater safety in many situations. It also empowers the instructor to "fully drive" the car, which means we can use training techniques that others simply can't.